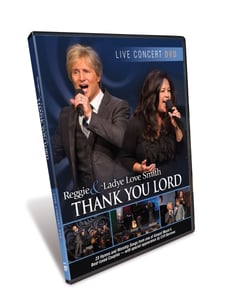 $

20.00
Reggie & Ladye Love are joined by special guests Cliff Barrows from the Billy Graham Association, Bret Smith, Yvonne Lewis, Danny Shelton, and Melody Shelton-Firestone for this live concert of 23 of your favorite hymns and worship songs.
Songs Include: 1) No One Ever Cared for Me Like Jesus 2) He Looked Beyond My Fault and Saw My Need 3) Somewhere Between Heaven and Earth 4) Can He Could He Would He 5) He Washed My Eyes With Tears 6) Hold On 7) Holy, Holy, Holy 8) In The Heart Of Jesus 9) Whatever It Takes 10) John The Baptist 11) Above All 12) You Raise Me Up 13) How Could I Ask for More 14) My Redeemer 15) Thank You Lord 16) From Here To The Moon and Back 17) Burdens Are Lifted At Calvary 18) The Solid Rock 19) Softly and Tenderly 20) I Have Fixed My Mind 21) I Will Serve Thee 22) Ordinary Baby 23) I've Just Seen Jesus.
CD (add-on for $7 additional) includes 13 of the above mentioned tracks.